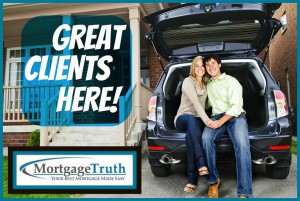 We all know how to find a great mortgage! The internet is chock full of information on this. But did you know that there are four things that make for a great mortgage client? I may have some of you laughing right now but the truth is – these four things will help you to secure the best mortgage possible so listen closely and become enlightened.
Full Disclosure (AKA The Truth)
With financial shenanigans at the highest levels of government and Wall Street hitting the headlines daily – you would think that the truth is outdated and anything goes when it comes to the numbers. The reality is that as a mortgage borrower – your financial picture is laid bare before the bank so there is no advantage to fudging the numbers and trying to qualify for something that is not possible. Although soft mortgage fraud is rampant in Canada – those who perpetrate this get into hot water eventually so working with them always carries the threat of collateral damage and a 'going down with the ship' potential. When we sit down and get the details (good, bad, and ugly) – more often than not there are options to keep moving toward your financial goal and get that mortgage completed.
Time Is Of The Essence For Your Best Barrie Mortgage
When you are working on a project for your child's birthday and it has many steps involved – you want to ensure it is completed well in advance and wrapped up so as not to disappoint on their special day. As your special day (mortgage closing) approaches – the best mortgage clients are well aware of the timeline leading up. In order to avoid any surprises or potential setbacks – treating the process as a priority in meeting mortgage conditions well in advance of the closing assists greatly to keep that smile wide on your special day. A general guideline is 10 business days before closing to have it all said and done.
Financial Management 101
The third aspect of the best clients is a general knowledge of your financial picture. Now I am not saying you need to become an accountant or financial manager however to avoid the disappointment of a surprise like having bruised credit, self employment requirements or the new mortgage rule changes – taking the time to get a understanding of how these items will affect you will do you a world of good. This will provide you with the time to remedy any obstacles before you go to get that mortgage approved.
Barrie Mortgages With Attitude
Lastly, as with everything in life – the attitude we approach the process with will greatly affect the outcome. Your mortgage is no different here. Within the timeline that we are working with banks, appraisers, realtors, lawyers, etc. – there can be many times when you will want to express frustration with a particular party that seems to be making things feel more complicated than need be. Taking the disposition of dealing with a bump in the road rather than a road block will benefit everyone involved. I have experienced countless times where a moment's reflection and calmer heads provided solutions to the most difficult situations. The best mortgage clients choose to work with their Barrie Mortgage broker as they understand that I only work for you and when we work together – we can accomplish a better outcome than we could alone.
I truly appreciate the honest desire to get the best that life has to offer for our families. Although slightly tongue in cheek – a big part of getting the best mortgage for your family is to become the best client you can be. Through full disclosure, expediency, a basic understanding of your financial picture, and a great attitude (even able to laugh at this blog) – you will be much more likely to get exactly what you want. A full featured mortgage with all the bells and whistles at a fantastic interest rate. This is also my goal for you. I will do my utmost to be the best Mortgage broker that I can be – will you be my best client? Comments are always appreciated below and your questions answered promptly.