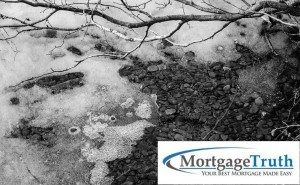 It was a horrible place to find themselves in. The debt had been manageable up until the fall and then "Sherry" got her hours reduced. When more month than money became too unbearable they reached out to their local Bankruptcy Trustee. This led to a consumer proposal and short term relief from the family's financial pressure cooker. Then the ugly happened:
When The Going Gets Tough For One Barrie Couple
"Greg" was more quiet than his usual self – understandably so as he just found out his mid-level retail corporate position had been eliminated in a company restructuring that left him moved to a new location with a downgrade in pay and perks. This was not the time for a life event of this type to rear its ugly head. Our couple was shell shocked to say the least. They had been referred to me as part of a professional Barrie Mortgage Brokerage and I took on their case with no hesitation. We were sitting in my office overlooking an ugly day outside. For Greg and Sherry though – the day was just about to get a lot less ugly.
What To Do With A Consumer Proposal On File
We finished with the preliminary questions in discovery of the history of their situation and got right into the problems to overcome. The couple was not destitute by any means. We found that the consumer proposal was for a smaller amount of money – to the tune of 25K or approx. $400 over the next 60 months. The problem with this was that at this time they didn't have enough extra money per month to even cover this payment. They still had to cover their 1st mortgage payment and all their household bills. We completed a complementary mortgage planning session to determine their options.
The Answer Is To Restructure This Debt Pronto
Would you be surprised to know that there are banks in Canada that will give you a mortgage – even with an existing consumer proposal on file? Yep, Greg and Sherry were surprised as well. I was able to arrange for them a new 1st mortgage to 85% of their property's value and pay out their existing 1st mortgage, the consumer proposal, and a little extra for a rainy day fund (happened to be today but who's counting). The kicker was that as we were able to use our mortgage planning session to our advantage – we decided to seek out an extended amortization to ensure their monthly payments would remain lower during then next few years to ensure they would be able to meet their monthly cashflow needs while looking at improving their employment prospects.
I will tell you what I tell most of my clients – your situation is not as bad as you think it is! We all feel much worse when the circumstances are ours to deal with than a friend or neighbor. You know you have felt the same. Sometimes you just need a third party opinion from someone who isn't emotionally involved in your financial decisions. That person is yours truly. Reach out to me or contact me and let's get your rainy day back to sun.