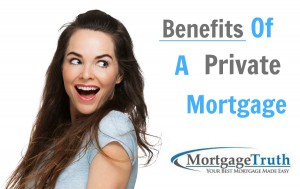 Would you be surprised to learn that a private mortgage can be a great benefit to a mortgage borrower? I am not even just talking about the monthly improvement in cashflow from consolidating higher interest debts. There are powerful reasons to consider the role of a private mortgage as a tool in your borrowing options.
Locked In Low Interest Rate = No Options
Shelley and Gord were very frugal and managed to lock in their interest rate on their primary mortgage of 350K at an extreme low of 2.75% for five years. They were very proud of this fact until the day came when some family needed assistance from them. In their desire to lend a hand, they went to see their bank representative to discuss their options. It was explained that to borrow the additional 50K they needed, they would have to break their primary mortgage and the new mortgage would be what they would qualify for today. As they had been facing a number of challenges themselves the loan was set at the bank's posted rate or 5.29%  This caused considerable strife to Shelley and Gord as to borrow another 50K was going to cost them an additional $775/month.
Barrie Private Mortgage to Save Money
Our couple had considered telling their family that they would not be able to assist however after some research, they were referred to me as their mortgage broker. Shelley and Gord explained their situation asking if there was a way to get a new mortgage at the same or similar low interest in order to assist their family. I took the time to explain to them what had happened with their own situation that had caused their borrowing issue. Next I showed them the answer to our locked low interest rate dilemma. Considering they have an amazing interest rate of 2.75% on their primary mortgage, I suggested we do not touch this but leave it as it stands today. Then I found them a number of lenders who although they had some issues, were willing to lend them at an interest rate of 12% (I know you are saying Ouch!) on the additional 50K they needed. The magic was when I assisted them in understanding a blended rate calculator which showed an effective interest rate of 4.28% on the total of the two mortgages. I know…they were as shocked as you.
This saved them 1% of interest on the total cost of borrowing and as the private mortgage was interest only, they saved another $274.50/month against the bank's suggestion.
Privacy Assured with Private Mortgages
Another major benefit to consider with a private mortgage is just that. No government institution or monitoring agency nosing around your business or personal affairs. This is an attractive feature to those who are in business for self or are looking for a quick injection of liquidity to secure a time sensitive opportunity. Your information is held confidentially and only the minimum disclosure to the lending party is required as part of the conditions of the loan. Of course, these are also negotiable as the pricing of the loan is individually considered on a case by case basis.
Interest Only Private Mortgage
Private mortgages are much more flexible than government regulated institutional types. One of the factors that surprise a lot of my clients is that many private mortgage lenders only charge the interest due monthly on the mortgage. This is one of the most important benefits for someone facing overwhelming debt. An integral part of a simple debt consolidation is to get the family back to having additional cashflow every month in order to get an emergency fund in place. By paying off credit card debt as high as 30% as well as interest only payments on the new loan, the average family can increase their cashflow from $700-1000 each month.
100 Percent Loan To Value Private Mortgage
The benefit I place the highest value on is the freedom and creativity a private mortgage provides the Canadian citizen. Why is it that anyone other than you should be able to tell you what you can and cannot do with your equity? One example where you can access up to and including 100% of the value of your home is the Self Directed RSP Mortgage This is a great option for those looking to control the borrowing process with maximum flexibility and freedom from bank restrictions and the hidden implications of bank fine print.
So let's cast off the stereotype associated with private mortgages and see them for the alternative that they are. Whether you are protecting a great primary mortgage interest rate or consolidating high interest credit card debt, this is a borrowing tool for many occasions and a preferred mortgage option in many cases. Contact me below for your best Barrie mortgage today.