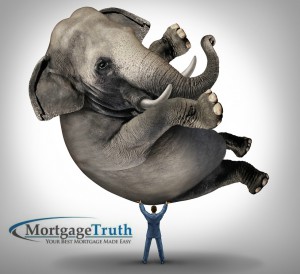 We've all had those days! More month than money – a surprise expense that was unplanned for – or how about this one: you put all your hope in getting approved for your mortgage but for reasons from A – Z the bank has declined you! Well the tough part of life isn't going away any time soon however maybe 'Jill and Gabriel's' story can give you reason to hope for a better tomorrow.
Barrie Bad Day For These Folks
A good friend of mine text me about a couple he knew that were having a tough go of it. After having both come from a messy first marriage – Jill and Gabriel were making a go of it and working hard to put their lives back together…together. I gave them a call and we made a date to sit down at my Barrie Mortgage Brokerage and get the whole story. Turns out that Gabriel ended up having to file for bankruptcy in order to get back to zero after paying off his first wife. Jill had it a little easier however the damage done was enough to make purchasing their own home unattainable through their local bank. Their dejected look was enough to make me feel quite inspired to do what I could to make this new start a good one for them.
The Tough Get Going
We completed a full review of all of their financial picture to see just where they were coming up short. In the end it really was the bankruptcy in this case that was detracting from their ability to move from renting to owing their own pad. They were both gainfully employed with a solid blue chip company in the automotive manufacturing industry making excellent salaries. Also since the bankruptcy, Gabriel had taken an acute interest in actively pursuing improving his credit and has maintained a car loan payment which gives him stability to build on. Jill has taken a few lessons from Gabe and opened another credit facility ensuring they would be in the best position possible when they were ready to buy.
Tough Mortgage Issues Are My Breakfast
I held a new respect for our prospective home owners and felt that maybe – just maybe we had a chance to get them that mortgage approval. I spoke with a number of lenders who look favourably on those who have done what Gabriel has done in making the best of the days after the bankruptcy's discharge. In fact, one bank that I work with did have a mortgage product that was a fit for exactly this type of scenario and we had an offer. Jill hit the roof when I broke the news! Gabe had trouble believing that this was actually happening. So much so that we had to go over the paperwork a couple more times in the following days to get the same questions answered (he actually pinched himself a few times). But no it was in fact real.
Too many Barrie folks have been kept from their dream of home ownership for too long. High home prices and restrictive mortgage rule changes have made the bar of entry or re-entry tough. Also the tough days of life have kept many from achieving their dream of finding a piece of Barrie to call their own. Don't let yourself become a statistic! I am here to assist you with your toughest of mortgage qualification issues. From Self Employed Mortgages to Private Mortgage Loans all the way to Bad Credit Loans – I have your solution. Contact me below with your details and let's get your better tomorrow closer to today!