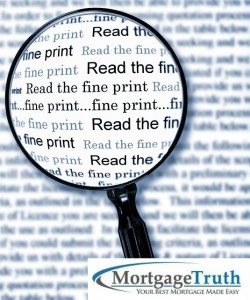 The world is full of dangerous consequences! We do all we can to protect our children…don't talk to strangers…go with a buddy…have a back up plan. But when it comes to our largest debt – a surprising amount of Mississauga residents check their caution at the banker's door. Here's why this is so dangerous…
Welcome To The Bank's Mortgage Box
The simple fact of the matter is that 8 out of 10 mortgages are held by the big six banks in Canada. And because they have so much market share (and to a lesser degree Canadian complacency) they have been able to stack the deck against you. Here is how it is done:
You are lured in by their marketing and they provide a low interest rate so that you feel you have already won.
You are now primed for a glossing over of the fine print. As you don't want to look stupid and already feel so good with your rate victory – you don't dig for answers to the hard questions that need to be asked.
You sign up and are just thankful that this will soon be over and you can just get back to day to day life.
Big Mississauga Banks Inflate Penalties
Here is a statistic that should keep you awake at night – 9 out of 10 five year mortgages are being broken at year three! This means that most likely you will be paying an early mortgage penalty. Did your bank representative take any time explaining to you the implications of this? Let me explain how they like to dupe us:
You received that great interest rate and maybe they even lowered it a bit when you said you would go across the road to the other big bank.
Your early payout penalty is calculated based on the bank's posted rate. Typically 2 – 3% higher than your contract rate.
This inflates your penalty by an additional 5 – 10K on your typical mortgage in year three if you need to break it.
Friendly Mississauga Mortgage Broker
My job is really education first. Saving you lots of money on your mortgage is a byproduct of this process. As you take control of your financial future and quit taking the wolf in sheep's clothing's word – the dollars will begin to come back into your control. If you are still reading this…you have already done more than 90% of Canadians so I urge you to take one more step and reach out to me below. Your future self will thank you.