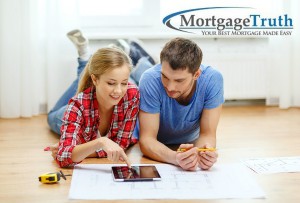 So you just finished flipping through that dream home magazine at the doctors office. The idea of refreshing your kitchen or bathroom is exciting however who has an extra 15-30K to make the dream a reality? Recent statistics have shown that Canadians have been conservative in paying down their mortgages and are more and more in a position to use their home to improve their home. But how do we go about doing this?
From Idea To Wow! Home Renovation Financing Options
The wonderful thing about approaching a big change in life is the clean slate feeling that it provides. Although the financial aspect of a home renovation is physically unseen – it can assist in giving you that new feeling as well. The reason being as you endeavor to find the money to finance this major improvement to your home – we dust off the existing financial settings that are in place and look at a top down holistic approach to incorporating the new financing with the old. This is where working as your mortgage broker in Barrie I will assist in ensuring that you are getting the best arrangement financially. The options available to you are:
1) Mortgage Refinance with Improvement Loan Incorporated – This is a scenario where it is determined to be advantageous to break any existing mortgage financing against your property and ascertain the requirements for your improvements. Then we approach different bank and mortgage lenders to see who will provide you with the best overall financing in a new first mortgage.
2) Home Equity Improvement Loan – This scenario looks at maintaining your existing mortgage and applying for a home equity line of credit purposefully for the amount of the improvements.
3) Mortgage Loan with Improvements Added – The scenario differs from the first option in that we are not acquiring the total new funds for paying out your first mortgage plus the renovations but a mortgage is arranged with the additional funds for improvements held back at the lawyer on closing until completed. This options is usually put in place for those who are having trouble qualifying for the first or second option.
Great Renovation Idea Financed Right
The most important aspect to keep in mind from a financial point of view is that the improvements you are doing to your home are going to raise your property's value. This is where a surprising amount of Canadians get it wrong. There is a lot of information available in this regard yet suffice it to say that if you focus on your kitchen or bathrooms – most likely you won't go wrong. The great part about this is that after you have completed the improvements to the home – the value increased in the property has already paid for the improvement! I have worked on many cases where a site inspection has revealed that a 25K renovation had improved the homes value by 50K and more. It really comes down to planning the project well and working with trades that do their job with excellence at a decent price point.
Ontario Homeowners Dream Reno Starts Here
Well here is your first step. Get the financing in place! You heard me right. Don't go out there and start looking at tile colours and appliances just yet. The place to begin is with your financial picture. There is an old saying that you need to go out and do your work first before you build something at home. A home renovation is no different. Having a plan and all the money you need to not stall half way through will be critical to your overall satisfaction with the process and your peace of living at home through the project. Reach out to me below and we can discuss all the factors that will affect you in ensuring this is a blessing in your home and an endeavor that has many fond memories attached.