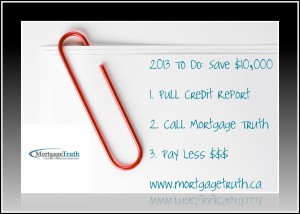 You Are Richer Than You Think! Well that is one bank's way of saying it (although the only people they have made rich have been their shareholders). The truth is that there is a way to save yourself a considerable amount of money – that's hard earned after tax dollars I'm talking about. It is done through cleaning up your credit history so that the next time you apply for a car loan or renegotiate your mortgage – you will be walking out with a smile on your face and a healthier bottom line.
Operation Credit Clean Up
Remember the last time you did a spring clean or got rid of the junk in your garage? How good did that feel? After it seemed life was easier and everything was found at a touch. The same happens when you clean up your credit profile. Mistakes on your report, a late payment, and the lack finality of that cell phone bill you have been fighting for the last two years have been wreaking havoc on your financial house. Here is how we get the job done (and that fresh 'clean' smell):
Declutter Your (Credit) Bureau
Nothing is accomplished until we look at your credit for what it has become – a mess. And to do that we need to order a copy and start to break up the clutter to find out what needs tossing, what needs cleaning, and what needs to be kept. The way to accomplish this is simple. You will go to Equifax's website and create a profile and purchase the Equifax Credit Report product which gives you the full report and your credit score. This is a personal copy and one that will not affect your score. Once you have this – we will take the time to go over it and dissect the good from the bad and the ugly.
Fixing For A Better Tomorrow
Once we have discovered what has caused your credit woes – the next step is to take the parts of your bureau that need attention and clean it up. Making repairs – like having that Mastercard which you closed 3 months ago that is still showing a balance owing in the red – are important and will be our priority. A surprising fact is that 33% of Canadians have errors on their credit bureau that may be causing a negative effect that could be costing you thousands in extra interest charges. I make it a personal mission to assist in any way I can to facilitate the repair process. That includes a complementary assessment and concrete actionable steps you can take to get the maximum uplift to your credit score.
This Is How To Save Thousands
A semi-annual review of your personal credit is the foundation to keep an excellent score and save you an extra 10K each and every year off of the amounts you pay and interest for your mortgage and other loans. This is not an arbitrary number – through working with hundreds of families just like yours – the typical client that works with me has saved between $700-1000 month which translates to thousands over the year. The beautiful part is that there is no obligation on your part to commit to any course of action until you understand it and are completely comfortable with implementing the changes. You have nothing to lose and thousands to gain by reaching out to me today. Let's get you on the road to a better financial future today. All questions answered promptly below.