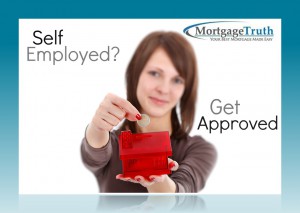 Ah the life of a successful self employed business owner – lower taxes, setting your own hours, unlimited income potential. But then you apply for a mortgage and BAM! Declined at your bank. Ouch. All the things that work to your favour are against you when you try to qualify for a debt like your mortgage. Here is why and how to navigate the process of Self Employed mortgages.
Am I Qualified In Mississauga
The quiet of my Mississauga office was broken by a knock on the door. "Carl" walked in with a confused look on his face and asked if I was able to help him qualify for a mortgage. It was determined quite quickly that he was turned down by his bank due to owning and operating a successful vending machine business.  The confused look was justified. Carl had been in business for the last 5 years and had grown his operation from $0 to 175K in sales annually. He was beating the odds on business survival success and had plans to expand over the coming years.
The bank's decline (and lack of an explanation) left Carl with a lot of questions. He was subject to the new federally implemented mortgage rules as well as having less than perfect credit. Here are some of the rules and how it affects those who are self employed.
Credit Is King For Self Employed
As a Self Employed borrower – your credit score needs to be 680 or higher. This is a non-negotiable. This effects everything from you being able to utilize a stated income relative to your industry all the way to what percentage of your income you can use towards your mortgage payment costs. Example:  Carl takes 40K a year in gross income from his business. A credit score of 679 and he will only be able to use 35% of his income towards the mortgage payment or $1,166.67 monthly for his mortgage, property taxes, and heat. This will give him the ability to service a mortgage of 180K. If his score was just one point higher at 680 – we get to use 39% – which translates into an increase to a mortgage of 210K. This means that one point on your credit score has the power to increase a mortgage amount by 40K. Credit really is king when you are self employed.
Business, Taxes, And Your Mortgage
Another area where a lot of Self Employed borrowers have trouble in qualifying for their mortgage is because of their taxes. All lenders are looking to ensure that your income and business taxes are up to date prior to forwarding mortgage financing. The exception here is when they are paying out the tax arrears from the proceeds of the new loan. If you run your business as your personal piggy bank or have trouble with Canada Revenue Agency due to not filing for the last three years – don't think you will have a smooth ride. The caveat here is this is only when we are working with institutional lenders. If you are seeking Private Mortgage capital for business expansion or debt consolidation – I work with lenders that will work with you on a case by case basis to determine qualification requirements.
Mississauga Loan To Value Changes
Another area where not only Self Employed borrowers are affected is in the maximum loan to value of the mortgage you are qualifying for. This is important enough to mention here in that the standard of 80% of the value of a property has now become 65% in many instances. This restriction is applied to many Self Employed borrowers when credit is bruised, debt is too high, or the mortgage is not insurable due to property location or type. Of course there are options available to these people from working with a Provincially regulated institutional lender who are not subject to these rules to arranging a second mortgage or equity loan behind the first mortgage to the required amount.
If you are self employed and feeling a lack of love from your bank – know that there are options available to you. Take the time to learn about credit, keep your taxes and business house in order, and become aware of the loan to value restrictions and you will be well on your way to navigating the Self employed mortgage environment. Next thing you know – BAM – you will be approved. As a Self Employed business owner – I understand your unique needs and will provide a comprehensive mortgage plan to meet your business and personal needs. Your questions please.