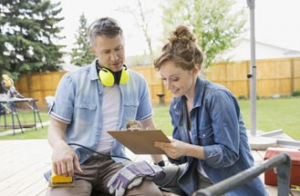 The home renovation market in Ontario is a 2 Billion dollar industry! You heard that correct….Billion! With the real estate market staying strong and low interest rates continuing – have you considered the next upgrade to your home? Here is how we can make that happen.
What Reno Do You Dream Of?
In preparing to accomplish a major or minor upgrade to your home, what steps need to be taken in order to ensure a successful home renovation project? Well the first, believe it or not, is to dream of the end result. For some of us, we have no creative capacity to see the end result – and in that lies an immediate problem. If you can't see all that is going to go in to your project – you are most likely going to underestimate how much it is going to cost. To overcome this there is a wealth of information online to assist in the estimation process and you can always bring in a couple of contractors for estimates as well.
How Much Money Will I Need?
The best rule of thumb for all projects is to double your original estimate. I know this sounds crazy however there are a surprising amount of my clients that contact me midway through a project and have run out of funds half way through. There are always going to be a couple of events that happen along the journey that you will have to overcome and are guaranteed to cost you more to meet them head on. The best way to ensure a reasonable timeline (and a happy household) is to keep the project going full steam ahead until completion.
What Are My Home Renovation Loan Options In Mississauga?
When it comes to securing the financing you need for a home renovation loan – there are many options to consider. I wrote an indepth piece on accessing your home equity loan in Mississauga to assist you in understanding the ins and outs better. I also talk about the specific differences in a line of credit vs. reno loan so you can compare the math. The big consideration is are you going to need all of the money in a short amount of time or are you looking to put out chunks of cash over the next 6 – 12 months. The loan type will change accordingly. We also must consider what type of loan you will qualify for based on your credit worthiness and ability to service the payments.
At the end of the day, the money is a necessary albeit not an exciting part of the journey. I am able to make the necessary quick and painless so you can get on to the more exciting aspects of choosing colours, materials, and designs. Let's get you on the road to a more beautiful abode. Contact me below and we can answer your specific questions.