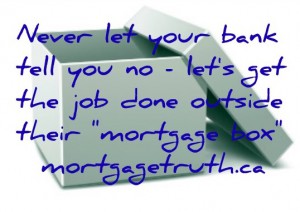 Most Canadians at some point in their lives require a mortgage. But who will you turn to for help? There are many potential pitfalls of making this decision without researching your options. The seemingly logical choice of using the local bank where you do day to day business for your mortgage loan is not necessarily the best option for you.
Here are some of the reasons why you should use a mortgage broker over a bank.
Who Do You Work For? Banks Vs Mortgage Brokers
This should be the first question every Canadian considering a financial decision should be asking those who offer to help you. If you were so bold as to press your bank's mobile mortgage representative, they would in fact have to admit they only represent RBC or TD and not you the customer. Why is this important? Would you ever retain legal advice knowing the lawyer you hired represented another party's interests? No.
In contrast, Independent Mortgage Brokers only work for the consumer and this is legally disclosed as part of the value added service they provide. If there is ever a potential conflict of interest, you will always be made aware before committing.
The Bias of the Banks Vs Bias of Mortgage Brokers
Another good reason to do your homework here is the fact that a surprising number of banks offer certain mortgage products in a biased fashion without informing you of the downside of this choice – meaning they have reason to keep you in the dark for their own advantage. This can leave you in a bad financial situation down the road. Quick example of a Real Estate Investment mortgage in Barrie:
John in Barrie was looking to purchase a second home which was going to be a rental property however he wanted the freedom in his mortgage to change things often like selling easily without high cost or fees and the flexibility of locking in at the best rates available that day at his convenience.
His bank in Barrie had told him they would be able to provide him with a mortgage loan for this however after his first meeting with his broker, he was armed with questions that proved otherwise. The bank had offered him a Collateral Charge Mortgage with a variable rate. What they did not tell him was the fact that if he had signed it would be costly and difficult to transfer this type of mortgage as there are additional legal and administration fees required at discharge. In addition, if he was to lock into a fixed rate at any time during the term of his mortgage, he would be subject to the posted rate which is often 1.5% higher than the best rates available.
The Bank in Barrie was biased in choosing a mortgage product for John that was in their best interest in terms of flexibility and future affordability.
Then John came back to sit down with his broker in Barrie and was provided with a mortgage that fit his exact needs. He showed John the advantage of a Standard Charge Mortgage for his specific needs. He also placed John's mortgage with a lender who provides the best discounted rates of the day if converting from a variable to a fixed interest rate. The advantage of the broker was an unbiased approach to finding a lender that had a product that only fit John's criteria.
The Best Mortgage Rates in Barrie – Banks vs Mortgage Brokers
 At purchase or renewal, a mortgage broker is committed to ensuring that your best interest is always first regardless of which financial institution provides the mortgage and this includes the rate secured. This is accomplished through comparing over 400 different products available from up to 50 lenders including chartered banks, trust companies, and credit unions. Brokers also understand market timing which will be leveraged in your favour. An example is taking advantage of popular 30 day quick close programs in which you delay your final decision until closer to the closing of the mortgage to access deeper discounted rates.
Your bank has shown a very different result. Did you know that if you do not go into the bank and negotiate, you will not receive their best rate available?  Even for long time existing customers you receive your renewal letter with an inflated interest rate with an invitation to come into the branch or just sign back and unfortunately most Canadians do just that. This is why the majority of bank held mortgages renew at posted rates which will cost you the consumer $18,000 in additional interest in just 5 years on a $250,000 mortgage amortized over 25 years for a quick example. Unfortunately, when it comes to the bank you represent yourself in the negotiation and that is a skill most Canadians do not have professional experience in let alone understanding the fine print that affects the interest rate.
Now you are much better prepared to make the decision of who you will turn to for advice when it comes to your mortgage. The banks are representing themselves at the negotiating table, hold a bias to their mortgage products, and will only give you the best rate if you hold their feet to the fire. Whereas mortgage brokers only represent you, I will advise as to the pros and cons of each mortgage product without bias, and will always work to provide you with the best rates and terms available.