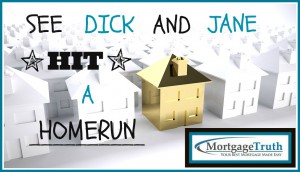 So you have decided that you want to purchase a property for investment purposes. That's great! And on top of this you want to find a great deal on a property that has a distressed seller or a run down and/or outdated home. Even better! Buying your first rental property can be challenging enough on its own. Here is how you can buy that place plus the money to fix it up so you'll have a homerun on your first investment property.
Purchase Plus Improvements Mortgage
The answer here is a unique mortgage product that includes an amount over and above the original loan amount that will be made available as soon as the renovations or improvements to the property are completed. This can be up to another 20% of the original loan or an additional 40K on a 200K mortgage loan for a quick example. But I am getting ahead of myself…let's meet Dick and Jane:
See Dick and Jane Buy A Fixer Upper
My clients were the typical newlywed couple with real estate investment dollars sparkling in their eyes. They had just come off a weekend course where they had learned how to buy millions of dollars in real estate without using a penny of their own money.
Once we sat down and began to discuss their goals and how they were going to go about reaching them – I saw that we were going to have to learn to walk before we learned to run. Dick and Jane had a small amount of combined savings as well as a pledge from Jane's parents that if they found a property they liked – that there would be a gift in order to assist with the purchase. We determined that we had the means necessary to buy their first rental property. Then they explained that they were looking to purchase some drab and out of date single family dwellings and improve them in order to increase the rents. Bingo! Did I have the mortgage for them.
See Jane Increase The Value of That First Property
Working with their Realtor – Dick and Jane found a solid home in a growing city with all the right economic fundamentals. The place had been owned by the same couple for the last 30 years and was priced right. Here is where we found an outdated and worn out home that was in need of approximately 25K in improvements to bring it up to today's standards. But our bright young couple didn't have the money.
 Here is what we did. We applied for a purchase plus improvements mortgage where the purchase price of 250K plus the 25K brings us to 275K. Then we minus the downpayment required of 20% or 55K. The new mortgage amount ends up being 220K. The full funds are provided to the lawyer on closing and the additional 25K is held in a trust account until the improvements are completed. Our couple has from 60-120 days to finish the improvements and show proof to the lender and then the lawyer releases the amount held back to pay for the work completed.
See Dick Run – To The Bank
 Now that the newly purchased home is modernized and brought up to the standards of today's high quality – high paying tenant – Dick and Jane have no trouble renting the home out to the right people. Now all they have to do is run to the bank each month to deposit the cheques and they are well on their way to learning how to profit from buying their first rental property.
 Buying a property with potential is one of the methods that many investors use to create considerable wealth. Learning how to do it right is important and having the guidance of professionals who are investors themselves can make the difference to your success. When you are tired of the same old pay cheque from the job – hit me up below and we can get you on the track to earning additional revenue.