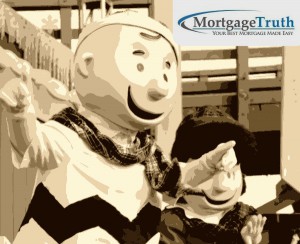 Ever wonder what happened to your friend who lost his job? How about the neighbor down the road who lost their spouse to cancer? Life keeps going after these tough circumstances. In picking up the pieces there are times when you need money now – not next week and the options are few at times. Here is a story of a great ending to a difficult go for "Linus and Lucy".
Unrequited Love From The Bank
Have you ever seen someone you love have their heart broken for the first time? This is how Linus and Lucy looked as they entered my Barrie Mortgage Brokerage on a soggy afternoon. My secretary placed a mug of hot java in Lucy's hand and a tea in Linus' and we got down to their tale of unrequited love. It seems that the bank should change their marketing slogans from how rich you are in doing business with them to how they will only assist you when times are good. Because when you need help the most – you may as well be Charlie Brown on Valentine's Day. They wanted nothing to do with Linus and Lucy since she been reduced to part time hours and he had become self employed two years back. It was a tale I hear too often these days.
Bank Loves Me, They Love Me Not
Linus kept up his line of how they had turned down offers for years to take out new credit and declined to increase their credit limit on their personal line of credit as they had been taught not to get into debt over their heads. Lucy brought things to a head with her comment as to how their request for additional funds was flatly declined. In the end they had taken a couple of months to explore their options while looking to remedy things by looking for extra work all to no avail. Things had come to a head and while they were already feeling a real lack of love from the bank – they then received a letter from them demanding payment of mortgage arrears or be faced with a bank power of sale of their property.
Snoopy To Your Charlie Brown – Financially Speaking
As down trodden and forlorn as they were – for Linus and Lucy there was a chance. They had a chunk of equity in their home. At first they balked at the idea of having to borrow from their home to remedy their situation however this was not a band-aid but a plan. We implemented a short term private second mortgage in order to maintain their excellent first mortgage interest rate and provide them the time to remedy Lucy's employment situation. We were also going to get an actionable plan together for Linus' credit rating as being self employed requires pristine credit in the bank's eyes. This is due to the new Federally implemented mortgage rules that affect us all. After explaining the steps and how others like them had navigated this with success – Linus and Lucy were on board.
Barrie Refinance Success – Bank Loves Me Again
Here is the proof in the pudding. I received a call the other day from Lucy and she was quite over the moon. It seems that after working together over the last 14 months – the bank has accepted to amalgamate their second mortgage loan back into their first and blending it with their best rates available today. Lucy was so happy that I felt the hug come right through the phone and it was heartwarming to say the least. You see our work had paid off. Not only had we staved off financial disaster where this couple could have lost their home and all the costs that come along with a power of sale but we had done much more. We worked a Mortgage Plan where based on their specific circumstances – actionable steps were outlined and followed to get them back into the bank's good books with the least amount of time and cost out of pocket.
Now it is your turn – have a story worth a Peanut's episode? Feeling unrequited love coming from your bank? I am here to hear that story and help you rewrite the ending where you can get that kiss from the little red headed girl and float on home with a smile from ear to ear! Contact me below and I will get back to you pronto.